The Demography Library supports the research and course work of graduate students, Research Associates and Research Affiliates of the Population Studies Center (PSC) and is funded by the PSC. The Demography Library is not part of the Penn Libraries system and has its own online library catalog, EOS. The Library is located on the fourth and fifth floors of the McNeil Building, our entrance is on the 4th floor, 403 McNeil. The Demography Library is primarily a self service library and library staff can provide you with instructions for borrowing items in the library. All users must register with the Demography Library specifically to begin borrowing material from the library.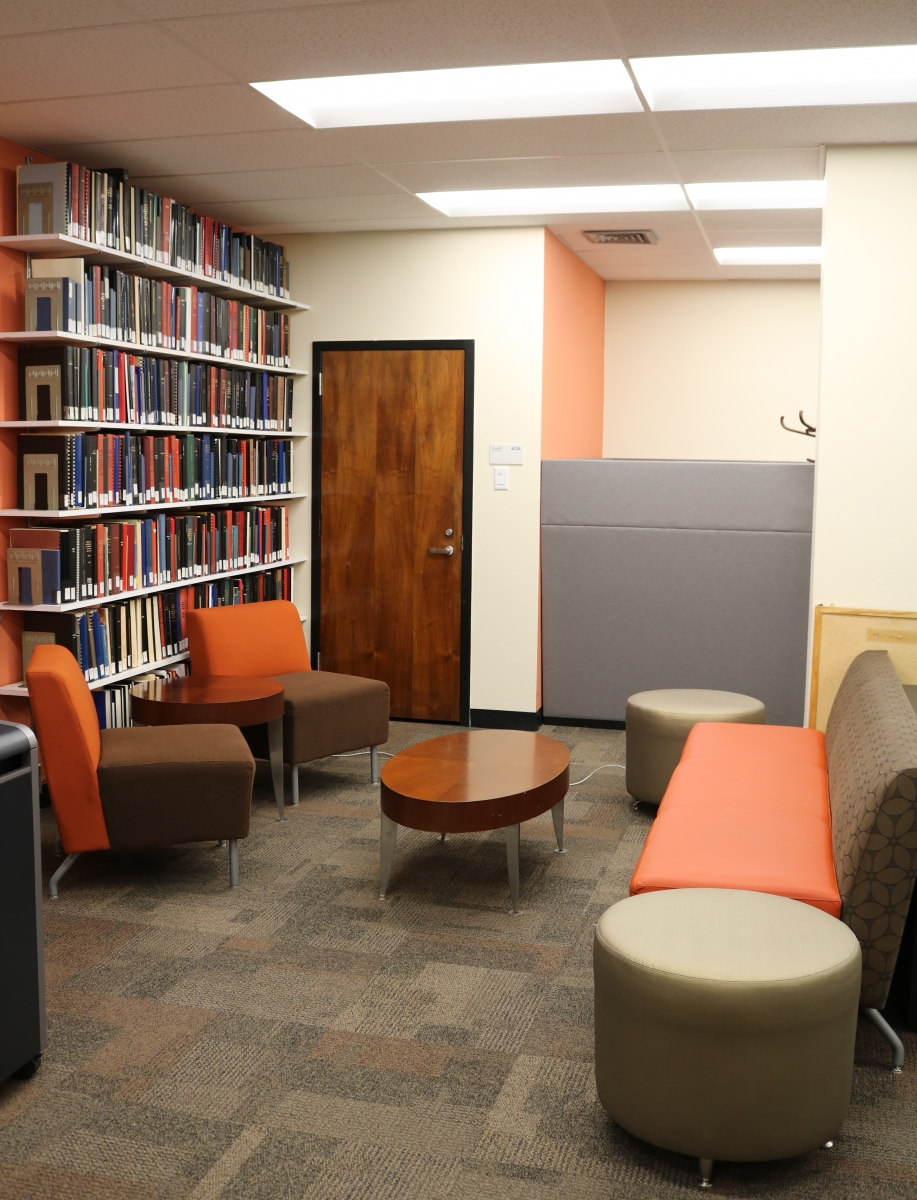 Collection
The collection contains over 35,000 titles. The Demography Library contains a strong collection of research material on demographic research and methodology. There are also strong holdings in demographic history, economics, migration, family studies, labor issues, women, family planning, and aging and health. Geographic coverage is worldwide, with particular emphasis on Africa, Latin America and other developing regions. The Demography Library also provides access to data sets and databases on CD-ROM. In addition to the resources available via the Demography Library, PSC researchers have access to a wealth of both print and electronic resources and many other services via the Penn Libraries. Read our Collection Development Policy.
Access
The Library, including its study and meeting spaces, are open to the public during normal operating hours between 9 am to 5pm, Monday through Friday, as long as the space is not reserved. After normal hours starting at 5 pm as well as on the weekends, the Library is open to all faculty, staff and students of the PSC as well as graduate students, faculty and staff of Criminology, Economics, and Sociology. Please contact Library staff for information about after-hour access. 
Assistance
Since the library staff provides several services to the PSC community we are not always available at our desks and are often helping other researchers, working elsewhere in the building, in a meeting or running an errand. If we are not available to assist you right away please email us or call us and will get back to you as soon as we can. We have a notification board sitting on the front counter which we use daily to communicate important information, including information on where we can be found or when we will be back if we are not in the library.
Services
Circulation: Library staff provides access to the material if the Demography Library, keeps track of circulating material with our online catalog and provides assistance with recalling material that is overdue and/or checked out to other users.
Course Reserves: Space is allotted in the library for Demography, Sociology and Economics course material. Library staff maintains, prepares and provides access to course reserve readings for Demography courses and also manages the circulation of course reserve material. If you are teaching a Demography course or course that is required for Demography students and would like printed versions of your reading lists made available in the Demography Library please contact the library staff before the beginning of the semester to ensure reading material is available on course reserve by the time the semester begins. Library staff sends a notice out to faculty teaching Demography courses prior to the start of each semester informing faculty of the services.
Acquisitions: Library staff welcomes suggestions for new material to be purchased for the Demography Library collection. If you come across something or publish something you think we should have please let the librarian know. In addition, library staff can show you how to locate and obtain copies of research material for your personal research collection.
Online Catalog: The Demography Library is not part of the Penn Libraries system and has its own online catalog managed and maintained by Information Services Staff, EOS.
Interlibrary Loan (ILL), Courier Services and Document Delivery: Research Associates at the PSC can request Articles, Books, Book Chapters and other types of items from the staff at the Demography Library. Library staff will locate, retrieve, and/or order (as appropriate) items requested by Research Associates and then deliver them in print format or electronically. The Demography Library will also return books to the Penn Libraries for Research Associates at the PSC. In addition, library staff provides training on how to locate and obtain research materials from other universities that may not been owned or available in the Demography Library or the Penn Libraries system.
Serials: Information Services Staff maintains the subscriptions and collection of journals,, annuals and other types of periodically received research material in the library. We also send out material for binding as needed.
Photocopying & Photocopier: A copy card operated photocopier is available for use in the library. You must pay for the card in the McNeil Business Office (1st floor) and bring your receipt to the library to receive your copy card. Cards are reusable and copies are just 5 cents a piece per side.
Maintain and Build the Demography Library Collection: We have a "New Acquisitions" area where new items are highlighted in the library and are available for checkout. New items arrive daily. We shift and move material as space allows and add new shelving and furniture as needed. We keep the signs up to date and keep adding to the catalog.
Provide physical space for studying and meeting: Individual study desks are available in the library on a first come first serve basis. There's also a few large tables and chairs on the 5th floor for small group study as well as a lounge area with sofas and chairs.
Duplicate Material: Library staff accepts the donations of unwanted research material from students, faculty and staff at the PSC, with the understanding that we will keep what need or find suitable. Duplicate or unwanted material donated to the library will be offered to researchers at the PSC free of charge and then to population and demography libraries elsewhere. Library staff periodically sends out email messages regarding the availability of duplicate material.
Contact Information
Demography Library (403 McNeil)
Population Studies Center
University of Pennsylvania
3718 Locust Walk
Philadelphia, PA 19104-6298 
psc-library@pop.upenn.edu
215-898-5375