Welcome
 
On behalf of our research community, welcome to the Population Studies Center (PSC)!
Our program fosters a collaborative environment and brings together researchers, students, postdocs, visitors, and faculty members of many disciplines and diverse backgrounds. Our PSC research associates come from over a dozen academic departments spread across numerous Schools at Penn, including the School of Arts and Sciences (SAS) (Sociology, Economics, Anthropology, Criminology, History, Psychology, Latin America and Latino Studies, Africana Studies), the Wharton School of Business (Statistics, Business and Public Policy, Insurance and Risk Management), the Perelman School of Medicine (PSOM), and Nursing.
We offer many resources, including weekly colloquiums, research clusters, and club meetings that we hope you will take part in. The PSC staff provide research support, including administration, computing and other information technology, library and bibliographic services, and expertise in issues related to human subjects research.
We encourage you to visit our other websites: Population Aging Research Center; Department of Sociology; Graduate Group in Demography; and Research Projects, where you will find detailed information about the PSC and PARC Research Associates and the Sociology Faculty Members, overview of ongoing research activities, and daily announcements.
Interested in learning more or to want to apply to become a Visiting Scholar, please see the 
Visiting Scholars page
.
McNeil Building
 
The McNeil Building at 3718 Locust Walk houses the Population Studies Center (PSC) Main Office, Department of Sociology, PSC Demography Library, and PSC Collaboration Space/Conference Room.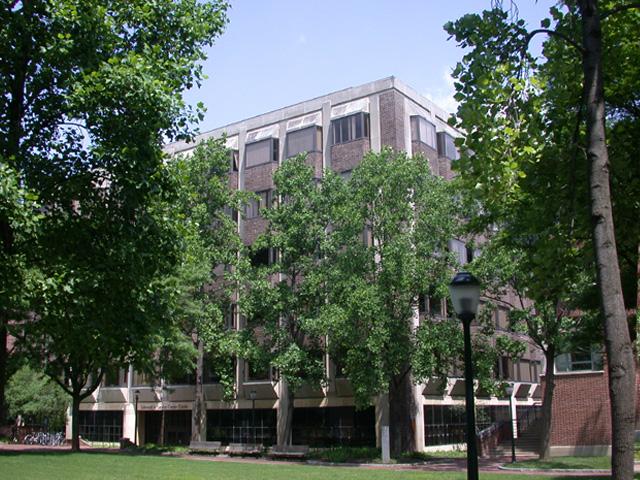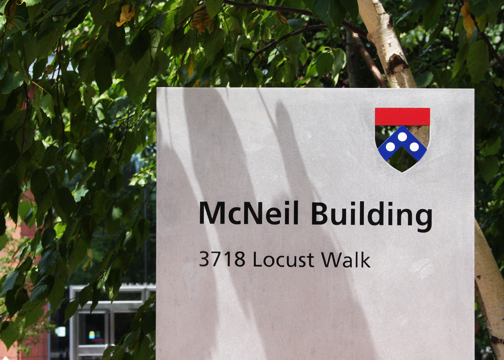 Hours & Location
The Main Office of the Population Studies Center is located in Room 239 of the McNeil Building. The office is open Monday to Friday, 9:00am-5:00pm.
Building Access
The McNeil Building is accessible by PennCard from 7:00am to 8:00pm. After hours access can be granted; please contact Dawn Ryan for assistance. 
Mailing Address
Population Studies Center
University of Pennsylvania
3718 Locust Walk, McNeil 239
Philadelphia, PA 19104
Fax Number
215-898-2124
McNeil Business Office
483 McNeil
Email: mcneil-bas@sas.upenn.edu 
Resources

Computing & General IT Support | McNeil 304, Monday-Friday, 9:00AM-5:00PM
Seek help from SSC for server access, secure server details, email issues, network access issues, hardware problems, folder access, printing, backup of data, and more. Depending on what services you seek you may need to get authorization from a Faculty member or Abby Dolinger. To request help email: sschelp@sas.upenn.edu or call: 215-898-6454. 
Demography Library | McNeil 403, Monday-Friday, 9:00AM-5:00PM
The Demography Library is primarily a self service library and library staff can provide you with instructions for borrowing items in the library. All users must register with the Demography Library specifically to begin borrowing material from the library. The research collection consists of research material on demographic research and methodology including statistical programming, including books on R, SAS, Stata, and statistical methods. There are also books on demographic history, economics, migration, family studies, labor issues, women, family planning, and aging and health. The Demography Library is not part of the Penn Libraries system and has its own online library catalog, EOS. For assistance with your research needs or questions about our resources, email psc-library@pop.upenn.edu or call: 215-898-5375.
PSC/PARC Events Calendar | /calendar 
The Demography Library staff curates the collection of events across campus that may be of interest to the PSC and PARC research community. In addition, the staff also collects information on upcoming conferences and workshops that may happen on or off campus and includes calls for papers for such events as relevant. 
Workshops, Colloquia, and Seminars at Penn | /resources/workshops-colloquia-seminars
Interested in attending upcoming workshops, colloquia, and seminars? Take a look at this list of Centers, Institutes, and Departments at Penn for their events and calendars.
Welcome Guide
 
For Postdoctoral Researchers and Visitors to the University of Pennsylvania Population Studies Center (PSC), Population Aging Research Center (PARC), and Department of Sociology, view the complete Welcome Guide below: